Mechanical industry "thirst" for labor?
Although it is one of 10 industry groups that has a steady demand for recruiting human resources over the years. However, enterprises in the mechanical industry always face the problem of lack of manpower, from workers to engineers. This is a paradox facing the industry.
According to the Vietnam Association of Mechanical Industry (VAMI), by 2020, the demand for manpower related to the mechanical industry will account for about 28% of the total labor demand of the country. Because, in fact, the country has about 14,800 manufacturing and trading facilities for mechanical products. But only 12 enterprises have more than 5,000 employees and 116 enterprises have more than 1,000 employees. As for enterprises with capital size of over 500 billion VND, there are only nearly 100 enterprises.
Have not met each other in the problem of supply – demand
Sharing with DNDN, the representative of Thai Long Mechanical Company Limited (Hanoi) said that the highly skilled mechanical labor market is in fierce competition because the units are very short of labor. It is worth mentioning, while mechanical enterprises are short of human resources, especially human resources with high technical skills, students and parents are less interested in this field. Candidates choose mechanical engineering only when they do not have enough passing points for the registered field of study and this field is considered only the top-bottom field of study.
He also added that the candidates only studied mechanical engineering when the low scores were not enough to enter the singing departments of the schools. Therefore, this industry is considered to be the "reluctant" choice of contestants – this representative said.
The mechanical industry enterprises are facing the problem of the shortage of human resources from engineers to technical workers is present. It is worth mentioning, while the domestic quality mechanical human resources are in short supply, the trainees in this sector prefer to go abroad to work for labor export instead of working for domestic mechanical companies. Many companies recruit mechanics, mechanical engineers in Korea with an attractive salary of 30 million VND / month, working in Taiwan, Japan with many incentives, so they have very attracted Vietnamese workers. Therefore, domestic mechanical companies are increasingly short of labor.
Although constantly building a mechanism to attract high-quality human resources, receiving young engineers and technicians with basic training with university, college, post-graduate degrees and workers from different universities. Technical worker school, technology engineering university. However, even Mr. Tran Van Qung – Chairman of the Board of Members of Dong Anh Electrical Equipment Corporation also has to admit, it must be very difficult to have skilled engineers and workers. Because, the mechanical – metallurgy industry for many years has developed "spontaneously" and "sands" do not follow a master plan of the state, thus distributing resources and unable to cooperate in training human resources. high quality for the whole industry, making the supply – demand not yet met.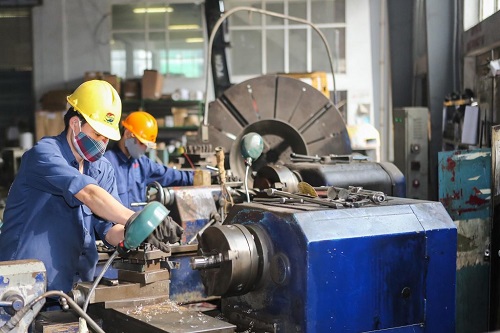 Promote cooperation between schools – enterprises
In fact, the ability to master technology and science is very important for a mechanical enterprise in the context of revolution 4.0. But to do this, businesses cannot lack human resources for high quality skills, creativity and research. Therefore, the training cooperation between schools – enterprises, between enterprises and enterprises in the mechanical engineering industry is very important, in order to improve the quality of human resources, contribute to narrowing and moving towards practice. "Training according to the needs of society and businesses".
As shared by VAMI Vice Chairman, Mr. Dao Phan Long, universities, colleges and intermediate schools should contact businesses to understand how the labor needs of the business are, then there will be training programs. create a match. In addition, training institutions and businesses need to work closely with each other, helping students have opportunities to practice in enterprises right from the first years, contributing to improving career skills. Enterprises must also actively seek potential human resources and have appropriate training mechanisms right from the time students are studying in the school.
From a business perspective, Mr. Phan Tu Giang – Chairman of the Board of Members of Petroleum Rig Manufacturing Joint Stock Company (PV ShipYard) said that PV ShipYard is currently in phase 2 (completing detailed design technology, step by step research). grasp the basic design) continue to invest in training, improving the quality of human resources and research and testing. PV ShipYard has proposed to the State to continue to support investment in training human resources specialized in design, manufacture, test run, launch and management of oil and gas rig manufacturing project. In training cooperation, in order to be most effective, between enterprises and training institutions must clearly identify the needs of the two parties, establish a coordination agency between the school and the mechanical enterprise. Establish a training plan for the year.
"The state needs to have more mechanisms and policies to increase the income level of the engineering industry in general and the mechanic in particular. This is also a solution to help workers feel secure about their income, do not have to worry about "running" abroad to earn higher wages "- Mr. Long said.